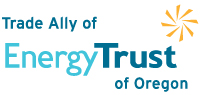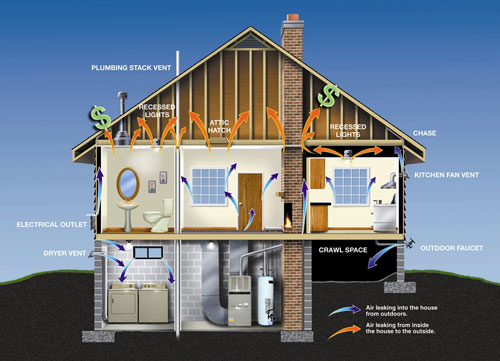 What is an Energy Audit?
An energy audit is a series of inspections and tests that measure your home's performance and reveal inefficiencies that are the primary causes of heat and conditioned air loss (draftiness) within your home. By lessening the air leakage of a home, the comfort level will also increase as the draftiness is reduced or eliminated.
How you can benefit from an Energy Audit performed by Home Certified… An energy audit can help you save up to 30% on your energy consumption, this environmentally friendly procedure is an easy an affordable way to help you contribute to a greener planet by reducing the amount of energy you consume and there are incentives, rebates and tax credits available to assist you in the process (see links below). Finally, you will see increased savings down the road.
Home Performance Testing with ENERGY STAR®


A Home Certified representative trained and certified to Building Performance Institute (BPI) standards, will use state-of-the-art diagnostic equipment to assess, test and evaluate all components of the home's health, safety and energy performance. Depending on the size and configuration of the home, this assessment will take about 2 to 4 hours. During the assessment, the trained Home Certified technician will conduct the following:
Exterior Inspection - Inspects for moisture problems, proper attic and crawl space ventilation and window inefficiencies
Interior Inspection - Inspects for indoor moisture problems, proper room ventilation, air leaks and insulation levels
Attic Inspection - Inspects insulation levels, ventilation and identifies existing or potential moisture related concerns
Crawl Space & Basement Inspection - Inspects for moisture problems, insulation levels and air sealing
Infrared camera Inspection – Used to identify any areas of air leakage and cold spots in your home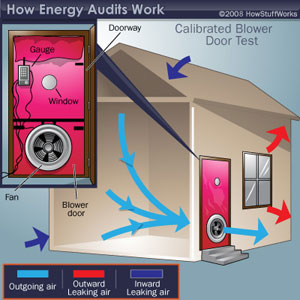 Diagnostic Testing for Combustion Safety - Tests for efficiency and any natural gas leaks or gaseous toxin levels
Blower Door Test - Measures volume of air leaking from your home and helps identify locations of leaks
Duct Blaster Test - Measures volume of air leaking from your ducts and helps identify leaks
After the assessment, you'll receive:
A detailed energy consumption report and customized action plan for efficiency improvements, comparing what you pay now to what you could be paying when your home runs at peak performance or a newly built home
A list of available cash incentives and tax rebates available for efficiency improvements to your home
Links
Energy Trust : Residential
Energy Trust : Residential : Cash Incentives
Energy Trust : Residential : Cash Incentives : Weatherization

Oregon Residential Energy Tax Credits
Federal Tax Credits for Consumer Energy Efficiency